Dow Chemicals, Grangemouth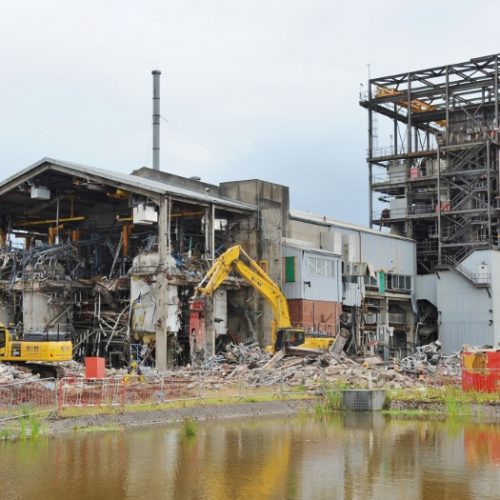 Brown and Mason have been appointed to demolish redundant process facilities at Dow Chemicals' Grangemouth site, near Edinburgh, Scotland. Brown and Mason is one of a small number of contractors accredited by Dow for demolition / decommissioning services in Europe.
The Grangemouth site is approximately 19 Acres, with the central section of the site predominantly taken up by the higher level structures, A & B Drying Structure/MBS Building/Packaging and Bagging Warehouses before spreading out to the lower levels structures on the North, East and West boundaries. The primary activity on site was the production of Methyl Methacrylate Butadiene Styrene. Impact modifiers used in the packaging, building and construction industries.
Although a Client team decommissioned the redundant plant prior to demolition – significant hazardous materials remained on site including: Asbestos Containing Materials, Hazardous Solids, Liquids and Gases, and Lead from Lead-based Paints. Brown and Mason developed a comprehensive methodology to mitigate these and other hazards. 12 separate demolition method statements have been developed to date to cover Areas 1-5 of the site.
A comprehensive plan has been developed to reclaim / recycle as much material as possible from the site. Brown and Mason are currently on target to recycle 98% of materials from the project.