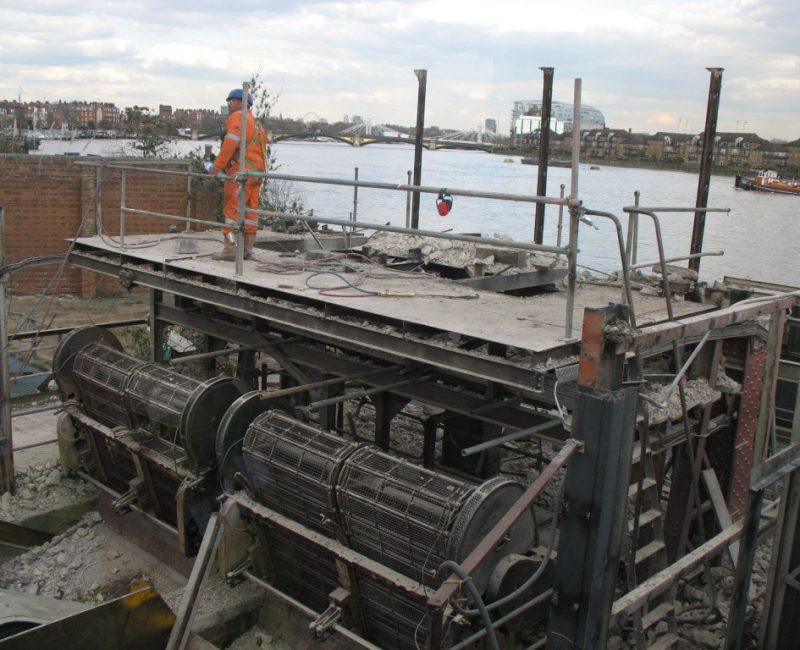 Lots Road Power Station
Client

Hutchison Whampoa Properties (Europe) Limited

Service

Completed

October 2009 (24 Months)
Lots Road power station, situated in Chelsea on the banks of the River Thames, was formerly used by London Underground to power the tube network.
The station stopped generating in 2002 and was subsequently acquired by developers for the purpose of conversion to residential use. Brown and Mason were appointed in 2007 to de-plant the structure and demolish certain secondary structures on-site (the turbine hall, boiler house and chimney remain in place for redevelopment).
The project comprised of:
Site establishment
Soft strip works
Complete removal of all asbestos containing materials including associated decontamination works
Plant dismantling and removal, including items to be retained
Site A (Main Power Station Building): Partial demolition of structures and extensive engineered façade retentionSite B (Oil Storage Buildings): Total de-planting of numerous oil storage tanks and demolition of the reinforced concrete superstructure
Site C ( East and West Ancillary Buildings): Demoliton of all structures down to ground level
A full demolition site waste management plan including the processing and removal of 20,000 tonnes of scrap metal and the reprocessing crushed arisings for engineering fill
Reinstatement of the site, leaving safe access for follow on contractors (filling all voids and removing all trip hazards)
The project was completed in a densely populated urban environment with residential properties, businesses and schools all within a close radius to the site boundary. Considerable care was taken to minimise the impact to our neighbours, a fact independently attested by the achievement of a 'considerate constructors' award for the project. Our procedures included:
A full environmental management plan including detailed environmental controls and mitigation measures
Implementation of a detailed traffic management plan to minimise traffic impact, including green travel arrangements.
Use of machine mounted integral dust suppressant systems and purpose designed water spray cannons to mitigate the potential for dust propagation at source
Noise, Dust, Vibration and Asbestos air monitoring regimes
The production of regular newsletters which were hand delivered to local residents and businesses to provide regular updates on the project's progress.
The installation of site hoarding notice boards displaying regularly updated project information
A full time liaison officer was employed throughout the project to provide residents with a single point of contact for dealing with questions, enquiries and concerns.