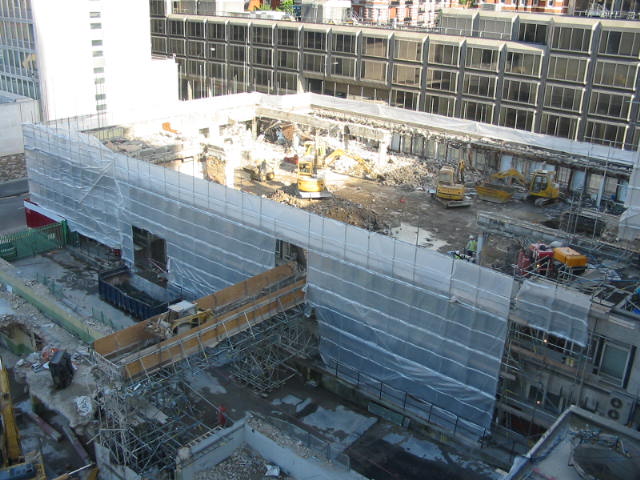 Cardinal Place, London SW1, Esso House and Glen House
Client

Sir Robert McAlpine Ltd

Service

Completed

January 2004 (16 Months)

Contact

Nick Brown
This major and highly complex project comprised asbestos removal and then demolition of the multi storey office blocks known as Esso House and Glen House.  
The buildings rose eight, ten and sixteen storeys above ground level and incorporated several commercial, retail and restaurant units along, and adjacent to Victoria Street between Bressenden Place and Palace Street.  The contract also incorporated the demolition of a large piazza and the remaining suspended ground floor of the adjacent Watney House, plus interlinking basement structures.
Notably, the scope of works included the careful removal of overburden and the demolition / dismantling of massive steel and reinforced concrete transfer structures spanning the live London Underground District and Circle Line Tunnel located immediately under Esso House running through the basement.
As a consequence the specification called for extensive safety and engineering input in the form of :
Temporary works
Tunnel protection measures
Vibration predictions and monitoring
Hydro demolition
Specialist saw cutting
The works were overseen by full time LUL liaison engineers who worked in partnership with our project team to ensure that the underground remained unaffected by our works.
Throughout the project extensive environmental monitoring was undertaken to provide reassurance that best practice was observed in terms of control over air quality, vibration and noise.
Liaison with the local authorities, enforcing authorities, local stakeholders and the general public was dealt with through our highly skilled and experienced management team; a team which included:
Project Managers
Safety Professionals
Demolition Engineers
Structural Engineers
Environmental Specialists
Liaison Officers