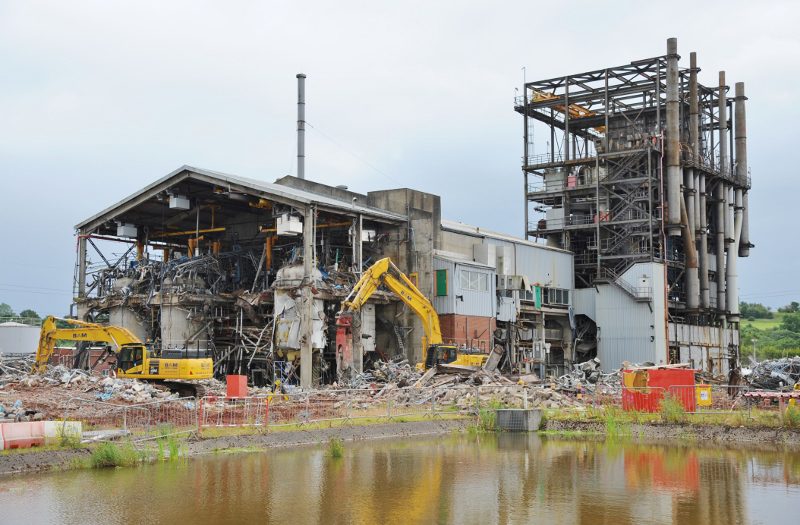 Dow Chemicals, Grangemouth
Client

The Dow Chemical Company

Service

Completed

November 2015 (7 Months)
Project Summary:
In March 2015, Brown & Mason were appointed to demolish the redundant process facilities at Dow Chemicals' Grangemouth site, near Edinburgh, Scotland. Brown and Mason is one of a select few specialist contractors accredited by Dow for demolition / decommissioning services in Europe. Significant hazardous materials remained on site including: Asbestos Containing Materials, Hazardous Solids, Liquids and Gases, and Lead from Lead-based Paints. The site was split into 5 separate areas of mixed construction types, including: electrical workshops, water tans, bagging warehouses, incinerators, cooling towers and boiler houses.
Site Background:
The Grangemouth site was approximately 19 Acres, with the central section predominantly taken up by the higher level structures, A & B Drying Structure/MBS Building/Packaging and Bagging Warehouses. The site's primary activity was the production of Methyl Methacrylate Butadiene Styrene: impact modifiers used to improve the durability of plastics used within the packaging and construction industries.
Site Safety:
Safety on site required careful management due to the split working areas and the sporadic nature of the complex. We implemented a site safety initiative to promote high standards amongst the team, offering Argos vouchers as a reward to the highest performing Operative. The scheme involves issuing blue and red cards to Operatives based on their behaviour across the site. The Site Manager issues blue cards to Operatives that go above and beyond their duties in terms of safety. Operatives that are seen practising poor standards of safety are issued red cards. Safety observations were also encouraged by the scheme to highlight the potential for accidents and how they can be avoided. Since commencement, the site Operatives have recorded 238 hazard observations, have received 6 blue cards and 0 red cards.