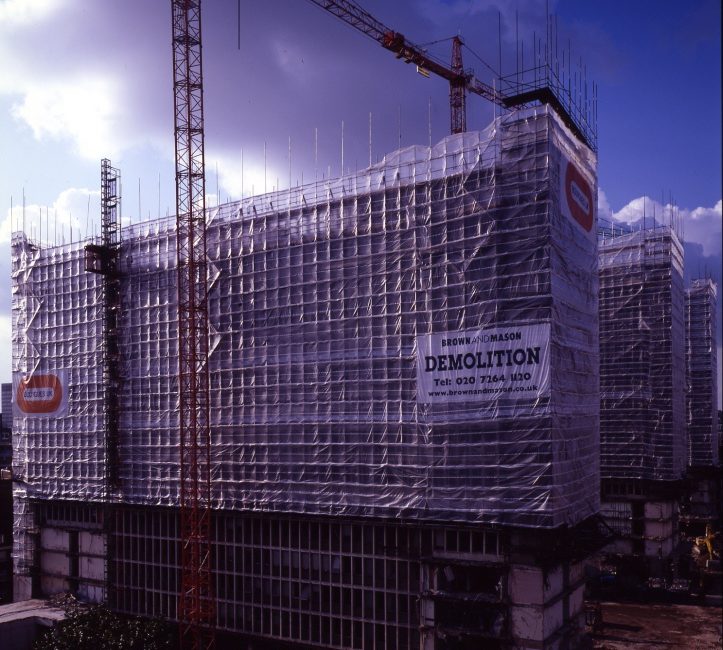 Marsham Street Demolition
Client

Bouygues (UK)

Service

Completed

May 2012
The landmark Marsham Street project in Westminster comprised the demolition of the former Headquarters of the Department of the Environment. It is purported to be the largest ever City Centre Demolition Contract to be undertaken in the UK.
Brown and Mason's seventeen month contract at Marsham Street involved:
the demolition of three reinforced concrete 20 storey office tower blocks
three "bomb proof" bunker structures with reinforced concrete walls up to three metres thick
extensive internal asbestos removal and temporary works to the existing, 2-storey deep, basement retaining walls.
Demolition equipment introduced on the Marsham Street project varied from 1.5 tonne mini-excavators to a goliath 110 tonne base-weight 360° excavator equipped with a concrete crusher attachment with jaws extendable to 2.6m. Brown and Mason were able to recycle 90% of the 200,000 tonnes of masonry arisings comprising concrete and brickwork from the site.
The Marsham Street site's location in central London presented particular problems – to resolve these:
Each tower was allocated its own tower crane which was used to lift the plant and machinery necessary to carry out the demolition of the roof and each floor, as well as assisting with the removal of arisings from each level. Every floor had to be back-propped to enable the safe utilisation of mini demolition plant.
A detailed stakeholder liaison plan was developed with Westminster City Council which, among other things, ensured levels of noise, dust and vibration were kept to a minimum.
Brown and Mason established full time monitoring equipment on and around the site. Data was downloaded daily by a full time, site based technician who monitored trends and variations so that if a problem was to arise it could be dealt with efficiently and immediately.
This project showcases the skill and experience Brown and Mason has in the demolition, dismantling and decommissioning fields. We can complete any project on time and within budget. Get in touch today if you have a project for our team of experts.