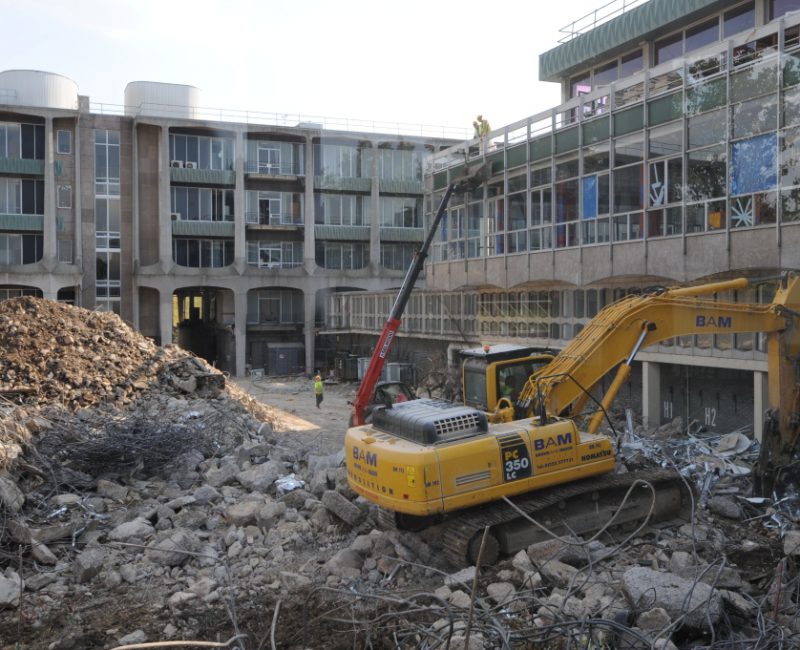 Pharmaceutical Facility Harlow – Offices, Car Park and Bridge
Client

Glaxo Smithkline

Service

Completed

Feb 2013
Removal and disposal of asbestos containing materials, soft stripping, demolition of office buildings and multi-storey car park; Removal of pedestrian bridge over A1169 and backfilling.
The Glaxo SmithKline Site is located to the west of Harlow town centre, with mainly industrial / commercial neighbours. The demolition works are also adjacent to fully operational research and development facilities.  A great deal of care was therefore required to ensure the disruption to local stakeholders from demolition activities was kept to a minimum.
A major feature of the project was the removal of a pedestrian bridge over the A1169. Brown and Mason have substantial experience of similar works (such as the removal of a number of bridges over the River Lea as part of our clearance project for the London 2012 Olympics site). We were able to ensure the smooth operation of this phase of the project throughout our close links with the Local Authority and the Highways Agency. We were able to gain possession of the road overnight which minimised disruption to local traffic.
Asbestos containing materials were prevalent throughout the site and particular care was taken to programme works in such a way that up-front asbestos removal works did not impinge on demolition activities.  As members of the Asbestos Removal Contractors Association (ARCA), Brown and Mason ensured that all works were carried out in accordance with requisite standards.  In accordance to CDM regulations a detailed Construction Phase Plan (CPP) was created before start on site.