Brown & Mason feature in D&Ri Magazine
Brown and Mason were featured in the November/December issue of Demolition & Recycling International Magazine (D&RI).
A double page spread gave the full story of Brown and Mason, as well as some of the services we offer. Please click the image below to see a larger, readable version.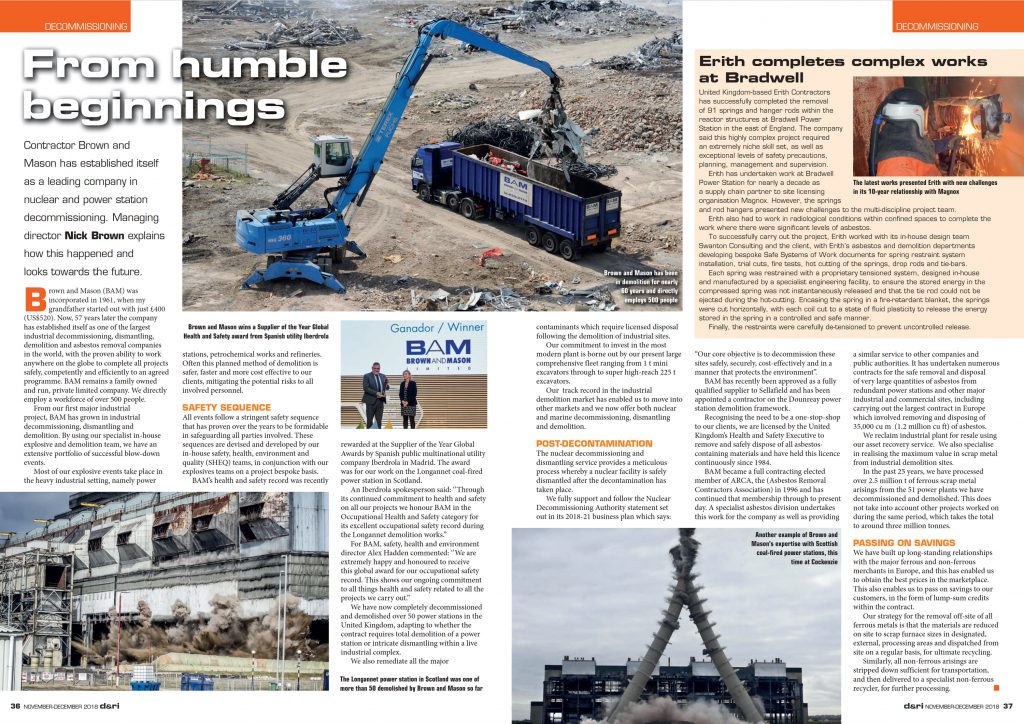 Here's the article content in full as featured in D&Ri Magazine, November/December 2018:
From Humble Beginnings
Contractor Brown and Mason has established itself as a leading company in nuclear and power station decommissioning. Managing director Nick Brown explains how this happened and looks towards the future.
Brown and Mason (BAM) was incorporated in 1961, when my grandfather started out with just £400 (US$520). Now, 57 years later the company has established itself as one of the largest industrial decommissioning, dismantling, demolition and asbestos removal companies in the world, with the proven ability to work anywhere on the globe to complete all projects safely, competently and efficiently to an agreed programme. BAM remains a family owned and run company. We directly employ a workforce of over 500 people.
From our first major industrial project, BAM has grown in industrial decommissioning, dismantling and demolition. By using our specialist in-house explosive and demolition team, we have an extensive portfolio of successful blow-down events.
Most of our explosive events take place in the heavy industrial setting, namely power stations, petrochemical works and refineries. Often this planned method of demolition is safer, faster and more cost effective to our clients, mitigating the potential risks to all involved personnel.
SAFETY SEQUENCE
All events follow a stringent safety sequence that has proven over the years to be formidable in safeguarding all parties involved. These sequences are devised and developed by our in-house safety, health, environment andquality (SHEQ) teams, in conjunction with our explosives teams on a project bespoke basis.
BAM's health and safety record was recently rewarded at the Supplier of the Year Global Awards by Spanish public multinational utility company Iberdrola in Madrid. The award was for our work on the Longannet coal-fired power station in Scotland.
An Iberdrola spokesperson said:
"Through its continued commitment to health and safety on all our projects we honour BAM in the Occupational Health and Safety category for its excellent occupational safety record during the Longannet demolition works."
For BAM, safety, health and environment director Alex Hadden commented:
"We are extremely happy and honoured to receive this global award for our occupational safety record. This shows our ongoing commitment to all things health and safety related to all the projects we carry out.''
We have now completely decommissioned and demolished over 50 power stations in the United Kingdom, adapting to whether the contract requires total demolition of a power station or intricate dismantling within a live industrial complex.
We also remediate all the major contaminants which require licensed disposal following the demolition of industrial sites.
Our commitment to invest in the most modern plant is borne out by our present large comprehensive fleet ranging from 1 t mini excavators through to super high-reach 225 t excavators.
Our track record in the industrial demolition market has enabled us to move into other markets and we now offer both nuclear and marine decommissioning, dismantling and demolition.
POST-DECONTAMINATION
The nuclear decommissioning and dismantling service provides a meticulous process whereby a nuclear facility is safely dismantled after the decontamination has taken place.
We fully support and follow the Nuclear Decommissioning Authority statement set out in its 2018-21 business plan which says:  "Our core objective is to decommission these sites safely, securely, cost-effectively and in a manner that protects the environment". BAM has recently been approved as a fully qualified supplier to Sellafield and has been appointed a contractor on the Dounreay power station demolition framework.
Recognising the need to be a one-stop-shop to our clients, we are licensed by the United Kingdom's Health and Safety Executive to remove and safely dispose of all asbestos containing materials and have held this licence continuously since 1984.
BAM became a full contracting elected member of ARCA, the (Asbestos Removal Contractors Association) in 1996 and has continued that membership through to present day. A specialist asbestos division undertakes this work for the company as well as providing a similar service to other companies and public authorities. It has undertaken numerous contracts for the safe removal and disposal of very large quantities of asbestos from redundant power stations and other major industrial and commercial sites, including carrying out the largest contract in Europe which involved removing and disposing of 35,000 cu m (1.2 million cu ft) of asbestos.
We reclaim industrial plant for resale using our asset recovery service. We also specialise in realising the maximum value in scrap metal from industrial demolition sites. In the past 25 years, we have processed over 2.5 million t of ferrous scrap metal arisings from the 51 power plants we have decommissioned and demolished. This does not take into account other projects worked on during the same period, which takes the total to around three million tonnes.
PASSING ON SAVINGS
We have built up long-standing relationships with the major ferrous and non-ferrous merchants in Europe, and this has enabled us to obtain the best prices in the marketplace. This also enables us to pass on savings to our customers, in the form of lump-sum credits within the contract.
Our strategy for the removal off-site of all ferrous metals is that the materials are reduced on site to scrap furnace sizes in designated, external, processing areas and dispatched from site on a regular basis, for ultimate recycling. Similarly, all non-ferrous arisings are stripped down sufficient for transportation, and then delivered to a specialist non-ferrous recycler, for further processing.
You can download the full magazine here (free subscription required).